4-8-4 Northern Steam Cab Controls
There are a lot of controls in any steam locomotive and at first it can be quite bewildering. However, being a simulation and not the real
thing, most of the controls don't do anything! The trick is to learn which ones work and which ones are important. This is the G-TraX
GN Northern cab. Below the figure is an explanation of what the various components are for.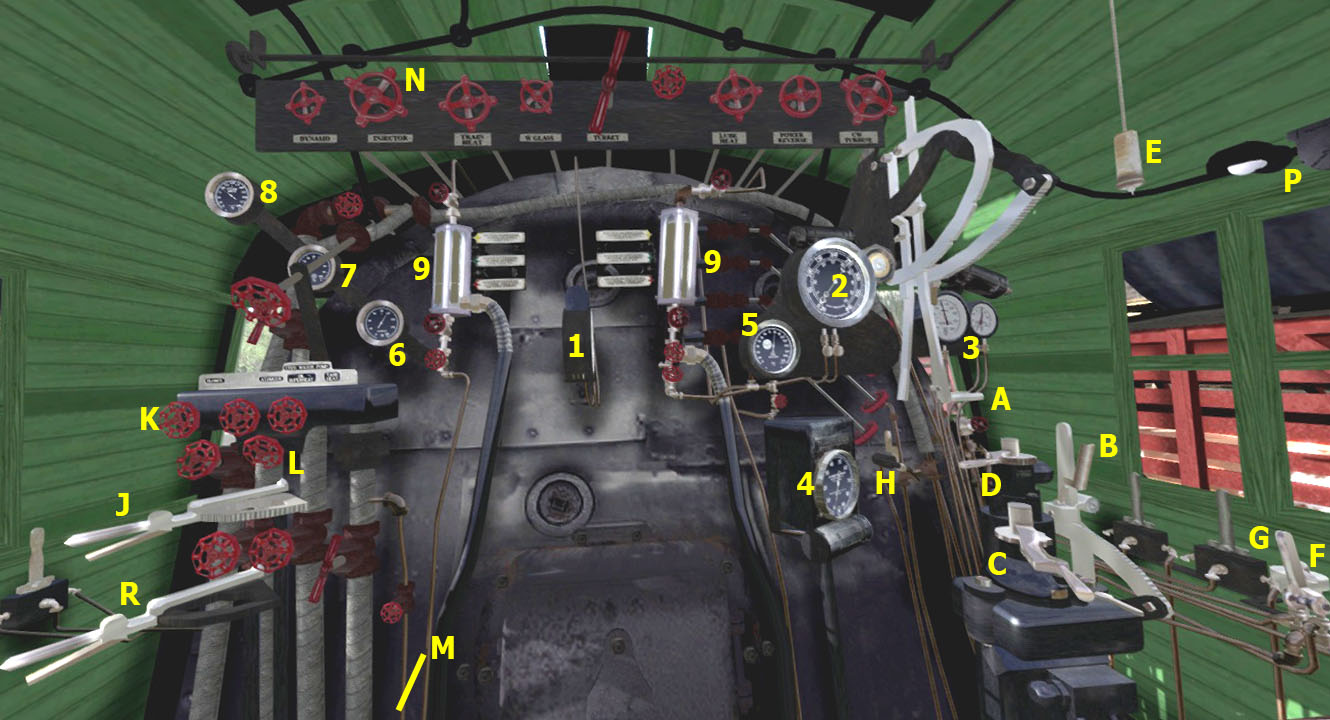 User-Operable Controls
Items in parentheses are the associated RailWorks keyboard commands
| | |
| --- | --- |
| A | Throttle (A / D) |
| B | Reverser (W / S) |
| C | Train brake (; / ') |
| D | Locomotive brake ([ / ]) |
| E | Whistle (Space) |
| F | Bell (B) |
| G | Sander (X) |
| H | Cylinder cocks (C) |
| J | Fuel valve (R) |
| K | Blower (N) |
| L | Feed water pump (L) |
| M | Injector water (at floor next to seat)(K) |
| N | Injector steam (I) |
| P | Headlights (H) |
| R | Damper (M) |
Display Devices
Items marked * are non-functional
| | |
| --- | --- |
| 1 | Main steam pressure |
| 2 | Steam chest pressure |
| 3 | Brake pressure (2 gauges, 4 indicators) |
| 4 | Speedometer |
| 5 | Water tank level* |
| 6 | Atomizer pressure* |
| 7 | Feed water pump pressure* |
| 8 | Steam heat pressure* |
| 9 | Boiler water level (2 each) |